Most Frequently Requested Services
Site planning
Storm water conveyance systems
Pond analysis and restoration
Feasibility and reserve studies
Rezoning and land use amendments
Property management technical consulting
Home owner association technical consulting
Water and sanitary sewer systems
Streets, curbs and sidewalks
Roadways and parking lots
Flooding streets, yards and other drainage issues
Drain fields and lift stations
Failed storm water ponds and structures
Utility problems
Sinkholes
Reconfiguring parking lots
Construction quality control/quality assurance
Florida Accessibility Compliance
New Construction
Whether you're building a new corporate office, shopping mall or residential community, we'll deliver a Solid Rock infrastructure. We help you define your vision, ensure compliance with government regulations, provide the design, permits and project management. We're with you every step of the way. Learn more..
Land Planning
Design
Land Devlopment
Permitting
Project Management & Quality Control
Certificate of Completion
Existing Construction
When existing buildings and communities experience flooding, deteriorating detention ponds, sewage backups, sinkholes, street damage, etc – we can help. We'll determine the source of the problem, design a repair/restoration plan, ensure compliance with original permit, specifications, and manage the solution. We even provide preventative maintenance inspections to help you identify problems that could accelerate into costly nightmares. Learn more..
Preventative Maintenance Inspections & Consulting
Analysis & Research
Design / Renovate
Permitting
Project Management & Quality Control
Accessibility Analysis
Certificate of Completion
Jacksonville Chamber of Commerce
The project involved an extensive interior and hardscape renovation of the existing Jacksonville Chamber of Commerce building located in downtown Jacksonville, Florida. This project was completed in two phases.
The first phase of the project included the demolition of the ceilings, walls and concrete slab on the first floor followed by the installation of helical piles and concrete grade beams. Over the years, the slab of the original building had settled significantly causing the slab to belly,
walls to crack and doors to become non-functional.  During installation of the helical piles, large portions of the site's previous masonry building were discovered.
Phase II involved the interior renovation of the building's three floors and installation of a new roof and aluminum front entry canopy.
It was important to the client to build sustainably. In fact, nearly 83% of all construction debris was recycled. DIRTT – a sustainable
and reconfigurable wall system – was used throughout the interior of the first floor. The newly renovated interior of the JAX Chamber
is now an open and inviting atmosphere.
Features include a cafe, open working areas, conference rooms, a training room and Board Room with a catering kitchen.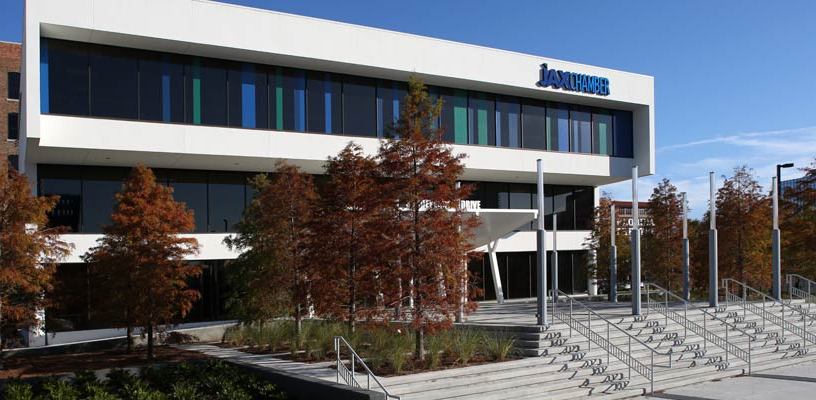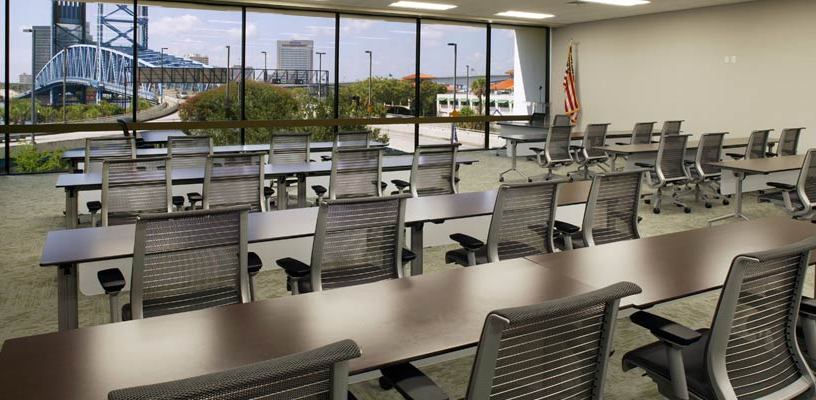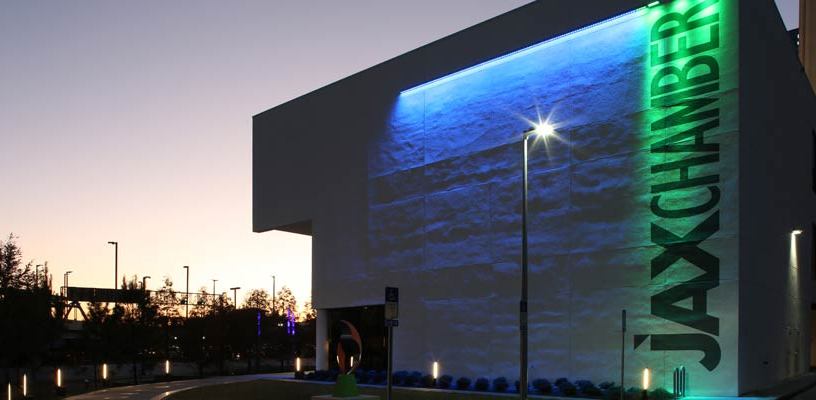 Date Bid: Nov 2012 Construction Period: Jan 2013 to July 2013
Total Square Feet: 20,110   Site: 1 acre.  Number of Buildings: One.
Building Size: First floor, 6,368; second floor, 6,368; third floor, 7,374; total, 20,110 square feet.
Building Height: First floor, 12'; second floor, 14'; third floor, 14'; total, 40'.
Basic Construction Type: Renovation
Foundation: Helical pile & grade beam, reinforced concrete. Exterior Walls: Structural steel with metal framing.
Roof: Membrane.
Floors: Concrete. Interior Walls: Metal stud drywall, DIRTT wall system.