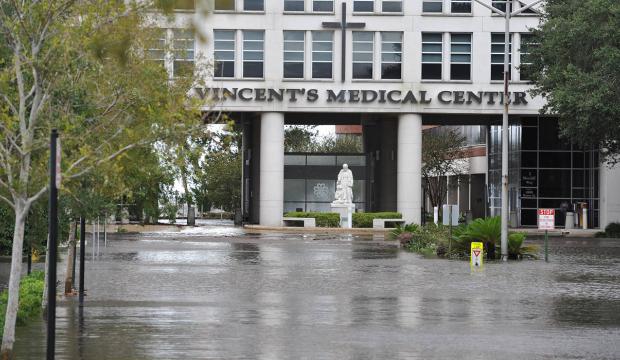 The 2017 Hurricane Season has brought one 50 year storm, already, and indications suggest that Irma may not be our only battering with storm water surges, dangerous winds, power outtages and interruptions in food supply.
Had  a Nor'Easter not just blown through Jacksonville the same weekend as Hurricane Irma arrived, we would have fared better, less catastrophic flooding than we did.  Considerable flooding, and loss of power has caused major disruption throughout Duval and St. Johns Counties, with businesses having to temporarily relocate, and schools being out for over a week.  The future of the Wells Fargo building,  an iconic commercial high rise, remains uncertain for the foreseeable future.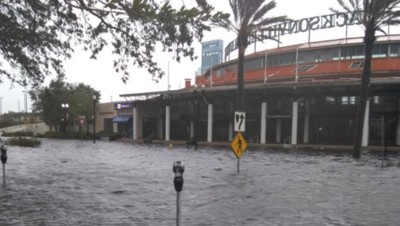 The Landing under water, thanks to Hurricane Irma
Photograph by Mike Zaccardi on Twitter
Resources for Hurricane Recovery
Here are some resources for small businesses looking for help in recovering for current hurricanes, and preparing for the next one
The SBA is offering low-interest disaster loans for small business recovery from Hurricane Irma.
You'll most likely need to address several insurance coverage issues. Here are some steps you can take to navigate the claims process.
FEMA provides on the ground assistance and disaster loans. Learn more here, Re: Irma.   Fema;s latest updates and dates by which you need to file are on the City of Jacksonville Emergency Preparedness page: Hurricane Irma Recovery Update: Federal Individual Assistance Available – Individual Assistance has been approved as of 09/10/17. The deadline to register is 11/09/17.  To register, call 1-800-621-FEMA. 
Contact your congressperson, state, or local representative to ask for support.
Avoid using unlicensed contractors. If you need to rebuild any of parts of your business, ensure that your contractor applies for a city building permit. And be aware that once you begin to change even so much as a sign, new code enforcement rules apply.
Contact your customers about your recovery and plans to reopen. Being transparent will help you keep customer trust and loyalty.
For real-time emergency alerts, updates, and information visit the City of Jacksonville Emergency Information Center.
Using real examples from the 2016 Hurricane Matthew, this guide includes pet friendly shelters, how to apply for help evacuating and the kinds of items to have on hand if you are going to shelter in place.
Here is some excellent advice from Polygon, a Massachusetts temporary client solutions company specializing in document recovery and emergency drying.
These steps, along with strong doses of humor and patience, will help put your business back on its feet quickly.
Step One: Hire a disaster recovery service
It may seem extravagant to hire a disaster recovery service, especially when little damage appears on the surface. Can't you just dive in and clean it up yourself? But before you charge blindly into the mucky fray, consider that only professionals with a complete understanding of the damage hurricanes inflict can accurately determine necessary repairs. Such disaster services experts will be able to anticipate and prevent potential problems, while allowing you access to crucial company documents.
Document recovery is a true challenge to returning to work, partially because document restoration is time-consuming and difficult for individual owners to organize. Timing is critical in document recovery, especially when mold is involved. Disaster recovery specialists report that mold appears in unventilated areas within 48 hours, regardless of weather conditions. Typical hurricane conditions, such as high humidity and high temperatures, only serve to encourage mold growth.
Disaster recovery professionals use highly specialized processes to return documents to a usable state. Some services use a desiccant air dry distribution system that allows for quick and reliable document access during and after restoration.
After consulting with your disaster recovery service, owners may be able to reduce humidity by increasing air circulation. When possible, some business owners have even convinced their landlords to keep the air conditioner running non-stop. Fans, dehumidifiers, and dryers can aid in getting as much air moving through your space as possible. Bottom line: as celerity is often the deciding factor in saving a business, savvy business owners have their disaster recovery service provider on speed dial, to be contacted as soon as the safety of employees has been investigated and confirmed.
Step Two: Equipment Repair and Data Recovery
Again, it's probably best to consult the experts on post-storm repairs. If your on-staff IT guru's uncanny understanding of damaged equipment restoration has you feeling ready to tackle restoration yourself, keep the following tips in mind:
Remove your hard drives and contact a company that specializes in hard and soft disc recovery. If there is any chance they came in contact with water, do NOT turn on computers you hope to recover. This can cause electrical shorting and destroy memory.
Steel machines should be dried by a service professional as soon as possible, to reduce rust.
Copy machines should also be serviced—wet, lumpy toner will need to be carefully removed.
Preparation is the name of the game in data recovery, since data loss can be crippling to a business. Of companies that had a major loss of computerized data, 43% never reopen, 51% close within two years, and only 6% will survive long-term.*
Step Three: Clean up and Secure a Cash Flow
Before inviting employees back to work, the office will need to be thoroughly cleared of debris and muck. As you (or your vendor) clean, remember that many items may be recycled rather than simply dumped. Check with your local authorities to determine proper disposal procedures, and which items may be reused. Green shrubbery may be recycled into wood chips, for instance. As explained above, moisture is your enemy; dry out your business and property as much as possible to prevent the continued growth of micro-organisms.
Finally, as you face the inevitable expenses incurred in post-hurricane cleanup, remember that the federal government often provides aid, especially to small businesses. Do your homework; be aware of the procedures and requirements for receiving such aid.
Please get in touch if we can be of further assistance.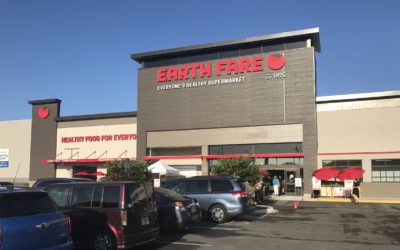 Mandarin South 11700 SAN JOSE BLVD, JACKSONVILLE, FL 32223 Mandarin South was originally constructed in 1982 and represents some of the original retail space in the Mandarin area.  Our client purchased the property and is investing heavily to once again make this a...
read more